Lifetime® Cookware Products
Durability, even heat distribution, and temperature responsiveness are among the many benefits of stainless steel, making both the novice and experienced cook even more successful in the kitchen.

But we didn't stop there! Every detail – from our handles and knobs to our storage-friendly nested design – was crafted with your health, safety, and convenience in mind.
See our selection of products below, or review our Use and Care information to find out how to care for your low-moisture Lifetime® Cookware and cooking accessories.
8-Piece Set

The perfect set for your everyday needs! Set includes the 1-quart saucepan with cover, 2-quart saucepan with cover, 9" skillet and cover, 4-quart stock pot with cover, and parts bag with detachable long handles (4).

9-Piece Set

All the major items needed to prepare the best dishes. Set includes a 1.5-quart saucepan with cover, 3-quart saucepan with cover, 11" skillet with cover, 7-quart stock pot with dome cover, 3-quart colander/steamer, and parts bag with detachable long handles (4).
Saucepans

Necessities for your stovetop with convenient detachable handles. Choose from 1-quart, 1.5-quart, 2-quart, and 3-quart capacities.

Skillets

Stir, flip and evenly cook everything from vegetables to chicken to eggs. Available in 9" and 11" diameters.

Stock Pots

Indispensable tools for any kitchen – steam vegetables, cook rice, soups, pasta and more. Choose from 4-quart, 7-quart, 10-quart, and 16-quart capacities.
Chef Prep Salad Cutter

Cut down your prep time with this elegant and versatile tool. Includes 5 cutting cones for distinct shapes and sizes.

6-Piece Tool Set

Prep, serve, and more with this stainless-steel tool set. Includes 2 spoons, 1 slotted spatula, 1 ladle, 1 fork, and 1 pasta server on a storage rack.

Gourmet Fry Pans

A beautiful complement to your kitchen lineup, these stainless-steel fry pans come in 8", 10", and 12" diameters.
Racks & Trays

Prep, cook, and cool with our 11" and 12" utility racks, steamer/grater, and egg poaching cups.

Cooking Accessories

Stainless steel accessories for steaming vegetables, straining, and making delicious desserts in our pudding pan.

Dome Covers

The large dome cover fits the 11" skillet and 7-quart pot for stack-cooking applications.
Griddles

Flip food with ease on our 11" square and 12" deep dish round griddle.

Woks

Available in 5- or 7-quart capacity, our stainless-steel woks help you crisp the perfect veggies for a dinner you won't forget.

Paella Pan

Make a show-stopping paella in this 14" pan with lid.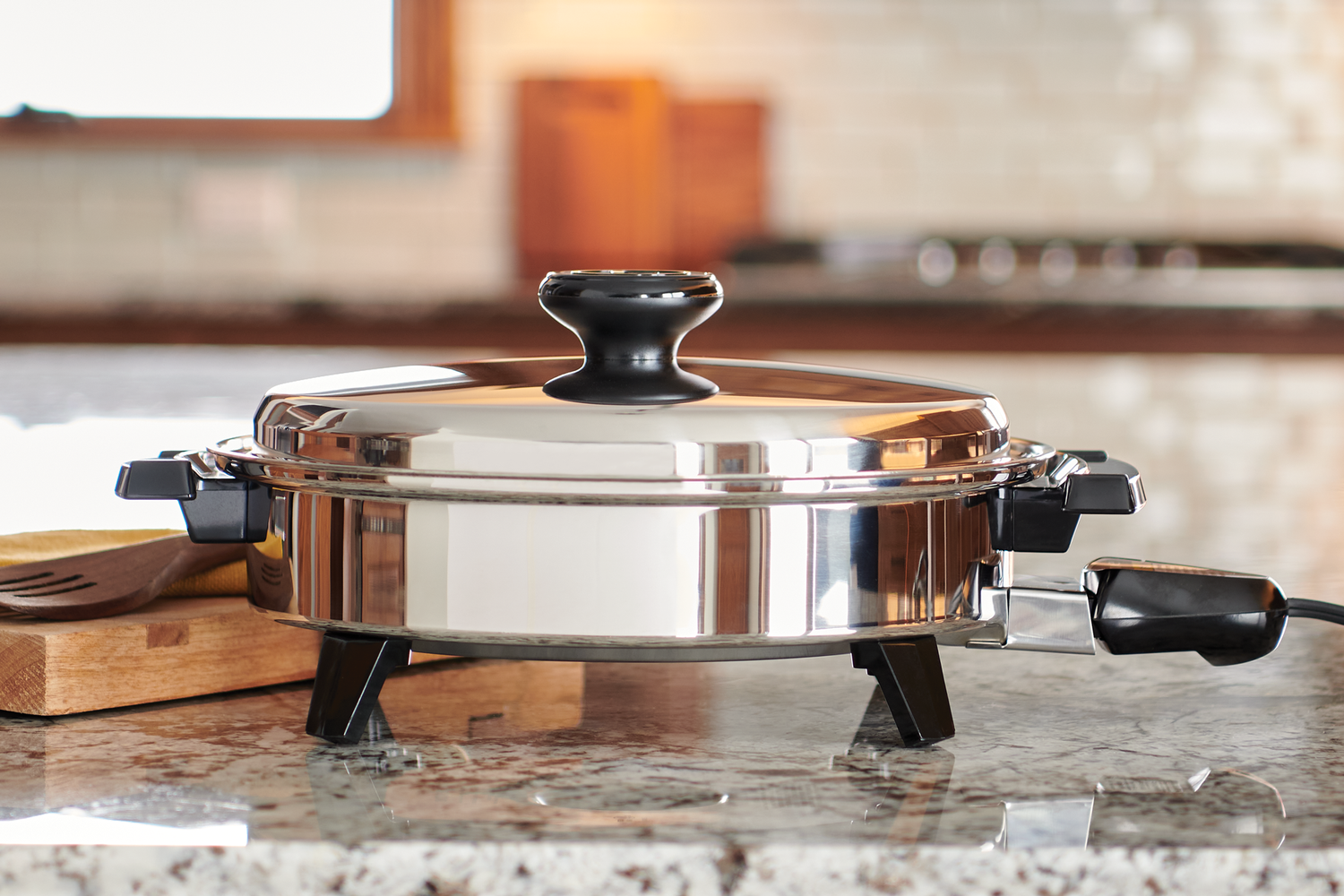 Liquid Core Skillet
Using our unique liquid oil-core technology, our electric skillets and casseroles will simplify your cooking but elevate your meals. Consistent, even heating and electronic controls help you make delicious-yet-healthy fried chicken, lasagnas, stews and more.
Liquid Core 5-Quart Casserole

The 5-quart liquid oil-core casserole features electronic controls and a detachable cord for larger meals - including your favorite chili.

Liquid Core Skillet

The 12" Liquid Core Skillet features user-friendly temperature controls giving you an additional cooking surface for a fast and easy alternative to your stovetop.
Pizza Pan

Cook tasty pizzas and more with this 12" pizza pan.

Oval Roaster

Prepare a turkey to perfection with this 10-quart (9.5L) capacity roaster.

Baking/Roast Dish

Just the right size for smaller roasts or savory family meals, this 9" x 13" roast pan (3.8 quart/3.6L capacity) transitions seamlessly from oven to table.
Large Cooking Tray

Bake cookies or finish your steak to perfection in the oven with this 11" x 17" cooking tray.

Oval Baking Dish

Perfect for the oven and serving, your quiches, pasta, or dessert bars never looked so good.

Bakeware 6-Piece Set

All the necessities for baking, with 2 round 9" cake pans, 2 round 9" pie pans, and 2 large 12" x 15" cookie sheets.
Double-Walled Bowl

This 3.5-quart (3.3L) serving bowl stays cool with double wall insulation.

4-Quart Mixing Bowl

Use the large 4-quart mixing bowl for all your prep and serving needs.

Mixing Bowl Set

Mix or serve with these elegant stainless-steel bowls in ¾ quart, 1.5-quart, and 3.5-quart capacities.
Genuine Lifetime® Cookware products are sold through a network of authorized distributors and are not available through retail outlets or online.

To find a distributor in your area, please contact us today.
Looking for Replacement Parts?

Should a handle or knob become broken accidentally, it can be replaced for a minimum charge through one of these methods:

1) Order online via a secure order site. All major credit cards are accepted.

2) Download a Handle and Knob Replacement Form (requires Adobe Acrobat Reader) and mail the completed form with your check or credit card information.

3) Call Regal Ware Customer Service at 262-626-2121
Option #1 between 8 AM and 3:30 PM (Central Time)
to order using a major credit card.

4) International customers, please contact your local distributor for service.

Limited Lifetime Warranty

A product of Regal Ware, Lifetime® Cookware has stood the test of time. It is backed by over 100 years of manufacturing expertise and a Limited Lifetime Warranty (on all non-electric items). For complete details, see the warranty information packed with each set or click here for a downloadable/printable PDF.