Lifetime® Cookware is manufactured with pride in the USA by skilled craftspeople in West Bend, WI.
Lifetime® Cookware has been made in the USA since Reynolds Metal began manufacturing the line in 1909. The West Bend Aluminum Company took over the production of Lifetime® Cookware in 1956. Today, Lifetime® Cookware is a Regal Ware, Inc product and is still manufactured and serviced by our team in West Bend, WI using the finest materials from around the world.
A Healthier Cooking Method, A Healthier You
Your health, safety, and enjoyable cooking experience are our top priorities. AlthoughLifetime® Cookware products can be used for all kinds of cooking, it is specially designed to use the low-moisture cooking method, also known as waterless or vapor cooking.

With Lifetime® Cookware, your foods baste in their own natural juices while they cook. Instead of adding fats and oils or boiling vegetables in water to cook them, Lifetime® Cookware pans and covers are designed to work together to seal in the steam and moisture often lost during the cooking process Because of its design, this method uses low to medium heat instead of high heat, so there's no need to crank up the stovetop and potentially burn food or allow it to boil over.
Your foods will retain more nutrients, moisture, color, and, best of all - more flavor. Plus, your meals will be much healthier for you and your family too!
Optimize Your Micro-Nutrient Retention
Low-moisture cooking your foods with Lifetime® Cookware will retain more natural vitamins and minerals, as well as texture, color, and flavor, compared to traditional cooking methods.

Studies have shown this way of food preparation helps retain key micro-nutrients such as calcium, iron, and carotene, the precursor to the body's production of vitamin A.
The Lifetime Difference
We've combined the best properties of the best materials for cooking so that you can achieve the best results.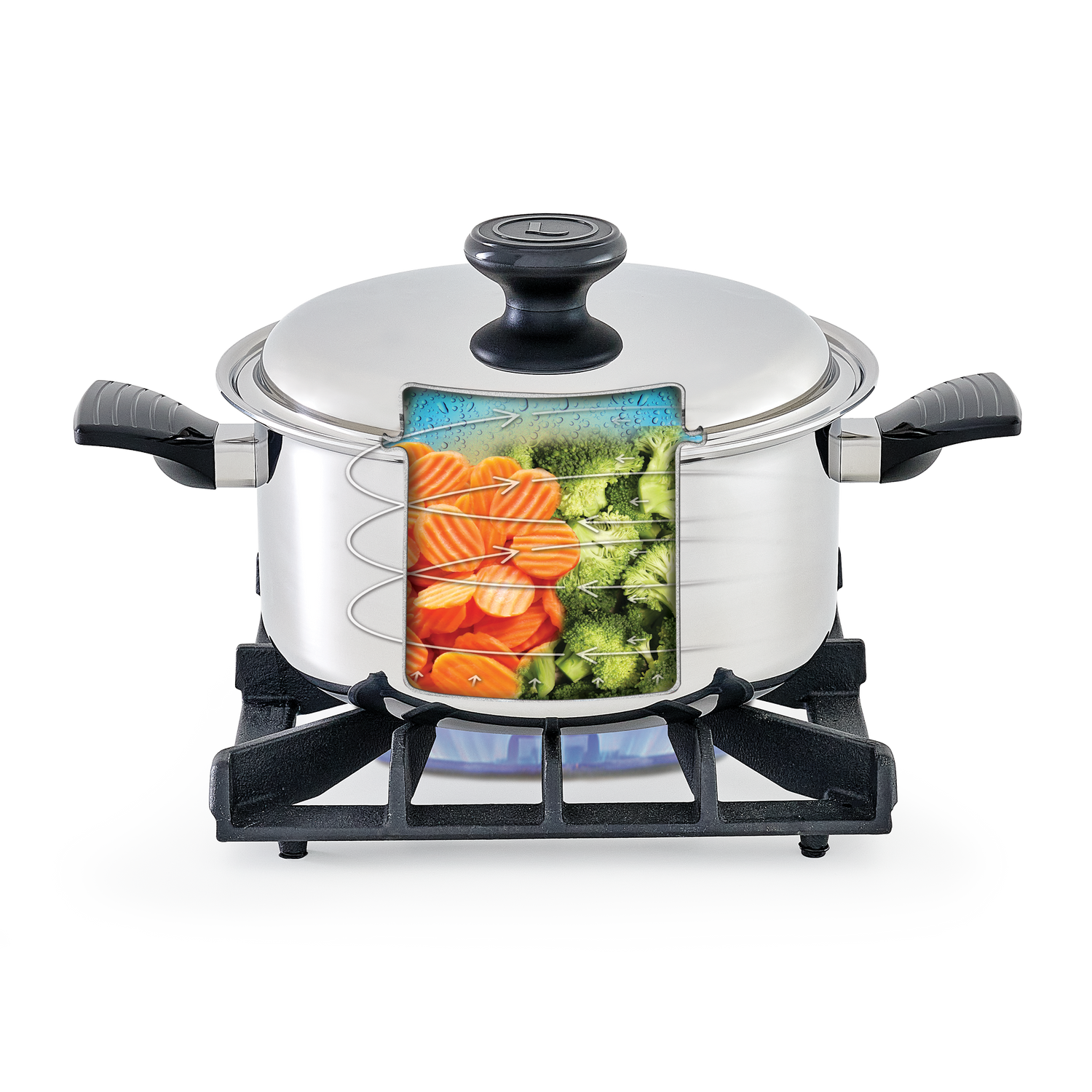 Thanks to our fully clad construction, heat is transmitted throughout the cookware, surrounding, tenderizing, and evenly cooking foods from the top, sides, and bottom. This engineering feature enables foods to be cooked at lower settings and in less time than traditional cookware, increasing energy savings by up to 70%.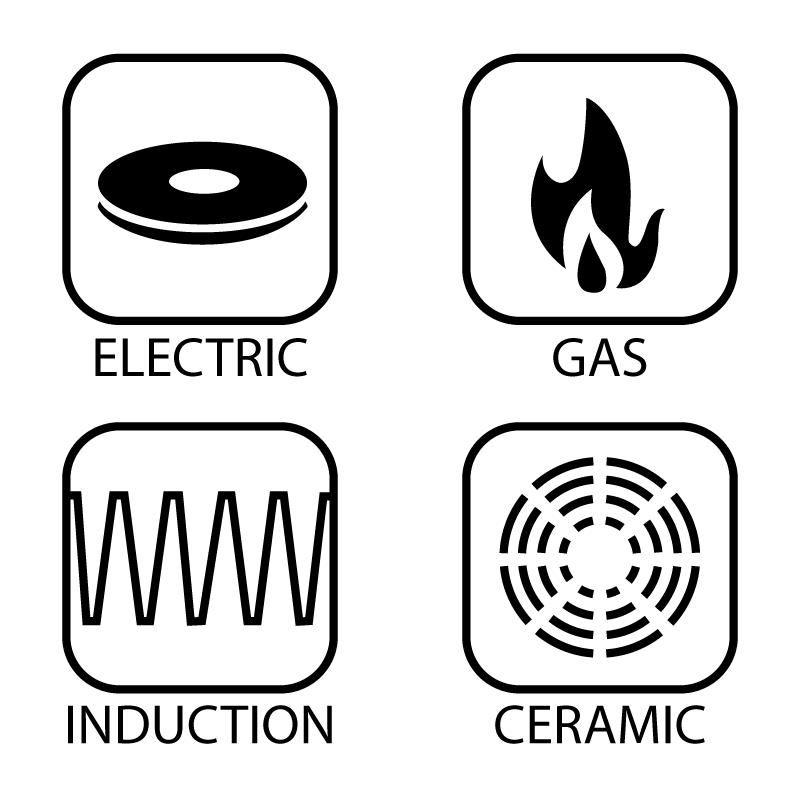 Lifetime® Cookware products are ideal for any range top, including induction ranges. Quick and even heat distribution throughout the entire stainless steel cooking surface allows you to prepare your favorite dishes your way or take full advantage of the Lifetime® Cookware minimum moisture/waterless cooking method.
Cookware manufactured prior to 2012 is not induction capable.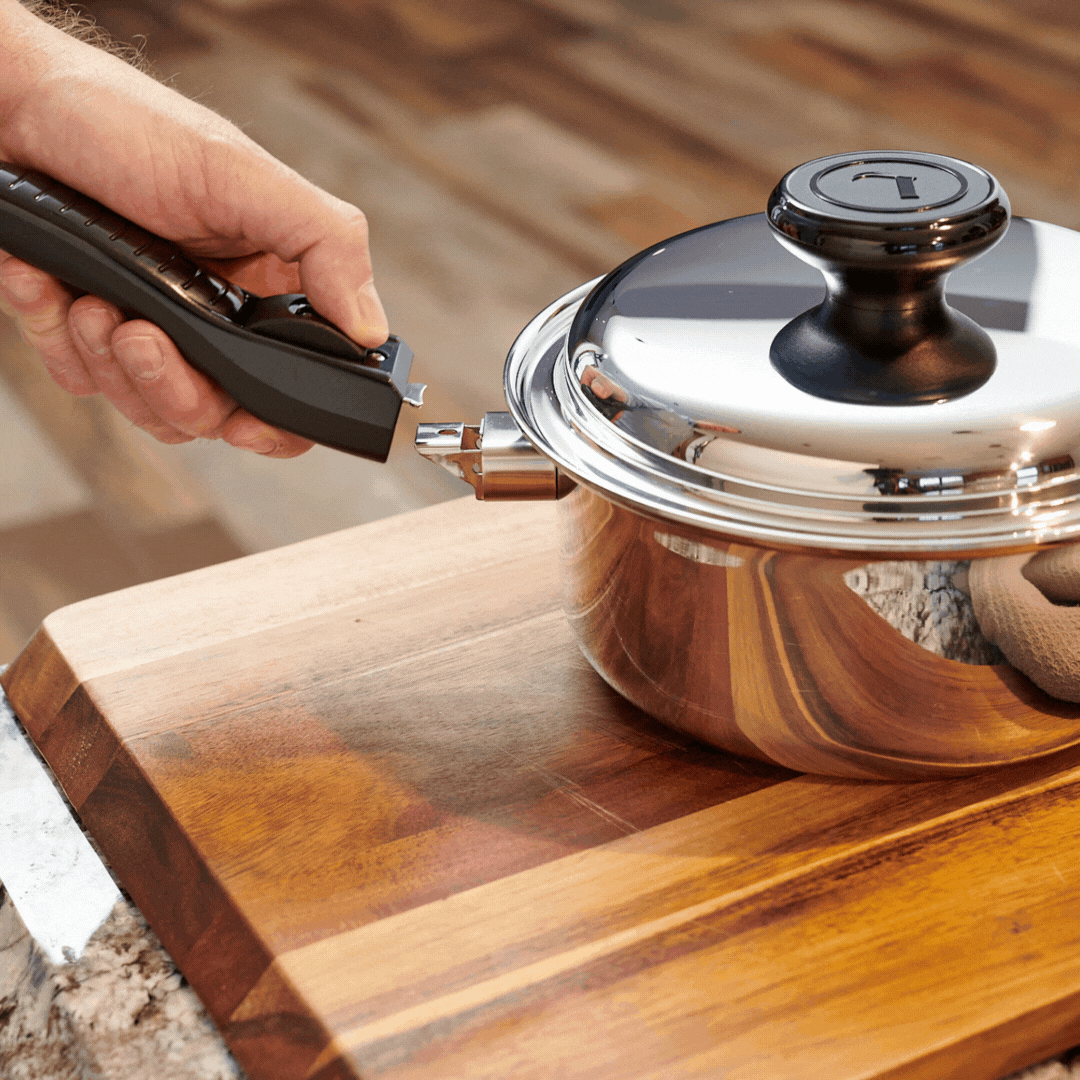 Our exclusive, single-handed release system for long handles makes storage and clean-up easier. All Lifetime® Cookware handles and cover knobs stay cool to the touch, feature stainless steel flame guards for safe handling during stovetop cooking, and are oven-safe to 350ºF/177ºC.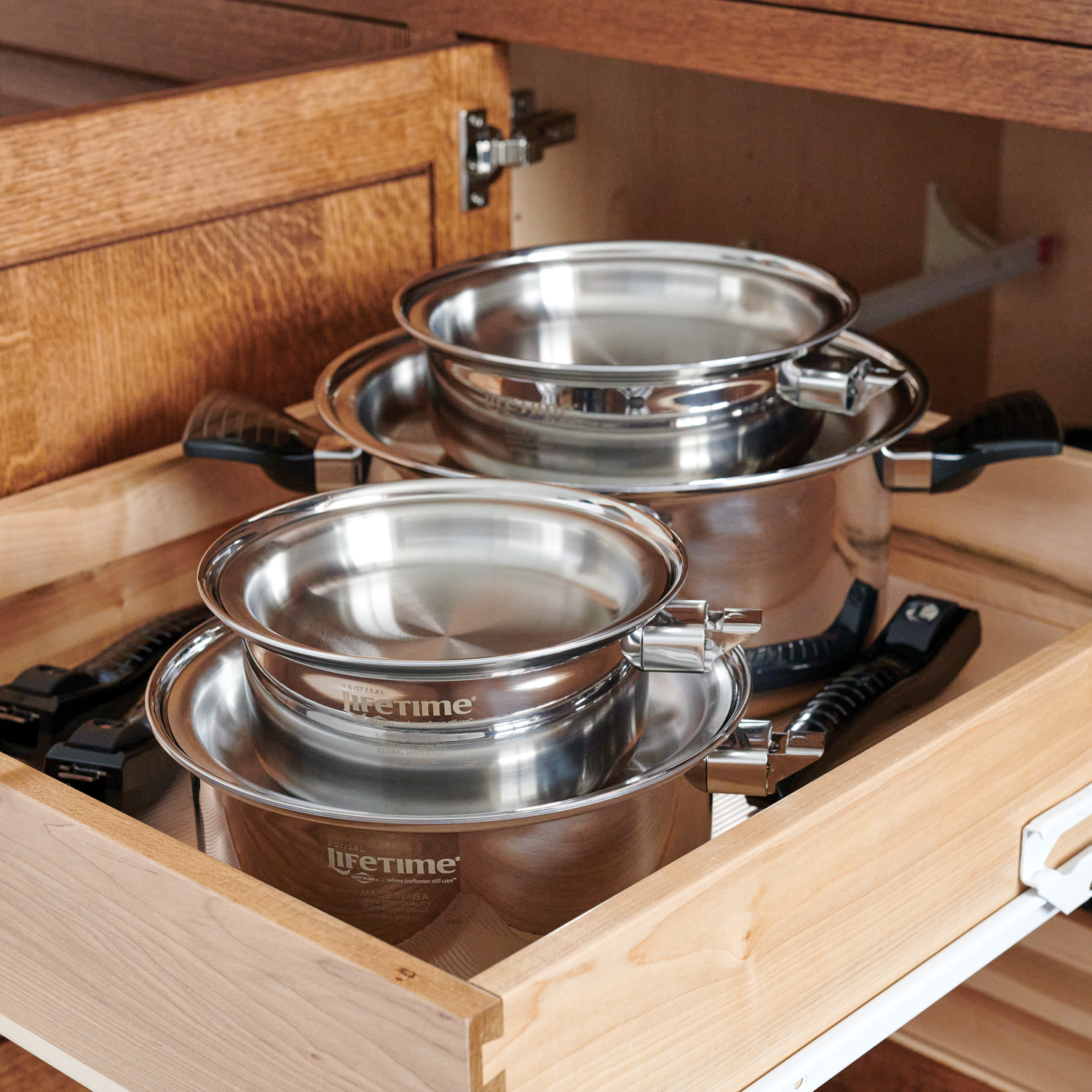 No more problems fitting cookware in your cabinets; storage has never been easier than with our specially designed covers that can be inverted for stacked, nested storage. Removable handles rest neatly inside or next to your cookware.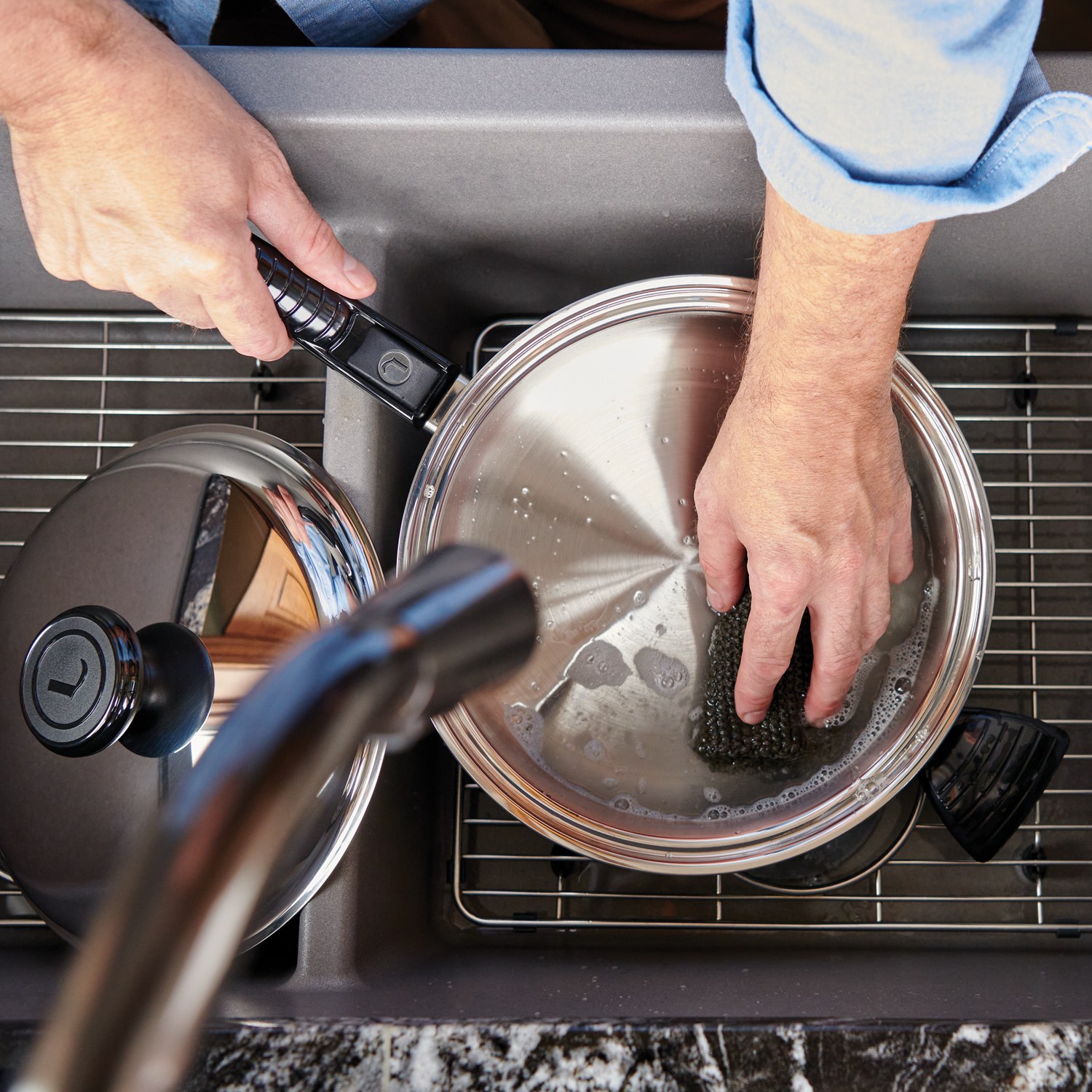 Clean-up is a breeze! Handwashing is the best way to care for your pans, but when life calls for it, simply remove the handles and place the pans in the dishwasher.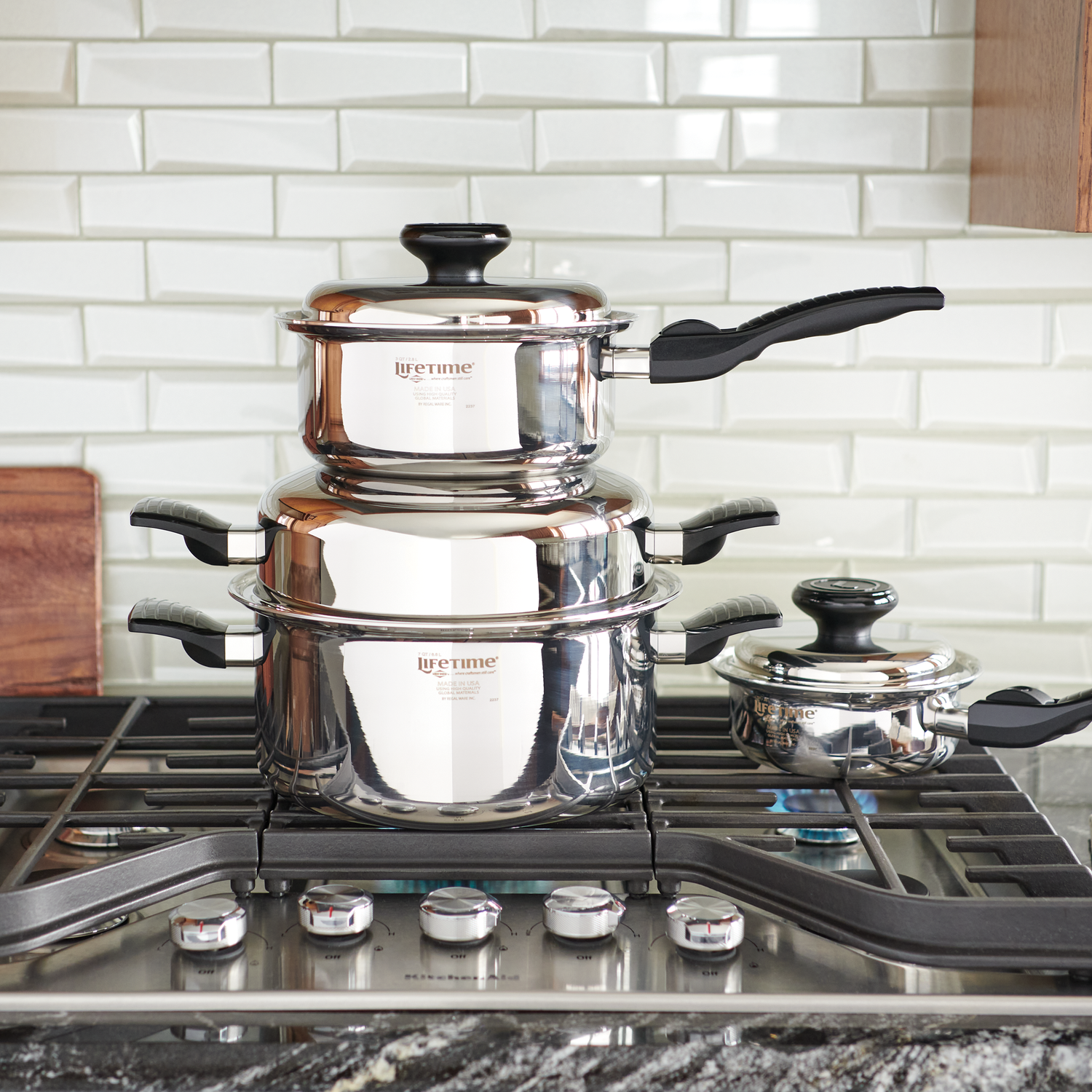 Cook timing perfected! Lifetime® Cookware allows you to cook multiple dishes using only one burner through a method we call "stack cooking". When used with our specially designed lids, the incredible heat distribution throughout the pan allows you to cook, reheat or keep your favorite foods at your preferred temperatures.
Cooking the low-moisture way with Lifetime® Cookware helps you save time, shortening cooking times by as much as 50%. This method also eliminates the need for "pot watching" and stirring, freeing you to do other things (or nothing at all)!
A Better Buying Experience
Because we believe in providing our customers with one-on-one service even before they purchase, genuine Lifetime® Cookware products can ONLY be ordered through an Authorized Lifetime® Cookware Distributor. Your distributor becomes a resource for questions and support throughout your cooking journey.

If you're ready to see what a difference Lifetime® Cookware can make in your kitchen and your life, contact us today.
As a division of Regal Ware, Inc., Lifetime® Cookware is an active member of the Direct Selling Association, and our consultants pledge to abide by the standards and procedures outlined in the DSA Code of Ethics.
Our company is also an active participant in the Direct Selling Education Foundation, whose mission is to serve the public interest by advancing the direct selling industry's support of consumer rights and protection while supporting education about the industry, ethical leadership, and economic empowerment of the individual.
Every Lifetime® Cookware product must meet our stringent standards for quality and performance. All materials used in our products are tested, evaluated, and approved in the Lifetime Quality Assurance Lab and backed by our Limited Lifetime Warranty. 

As part of the Regal Ware, Inc. family of brands, Lifetime® Cookware is a proud member of the Cookware and Bakeware Alliance, upholding the highest engineering standards and promoting connection in the industry.